Nokia 3310 (2017) Reviews & Opinions
Nokia 3310 (2017) Mobile
Price in Pakistani Rs. 5200
/-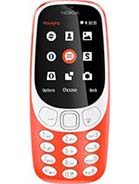 Get free
Nokia 3310 (2017)
mobile via Lucky Draw by posting Nokia 3310 (2017) mobile reviews and opinions.
(Reviews / opinions on at least 10 mobile sets required)
Register
now to view email address & mobile numbers of girls & guys who want to sale or purchase mobiles.
expensive than its size .. dont want it
hi I like just nokia now days I m using nokia 108 coz nokia is the one of the best friendly use phon now days I m waiting new model of nokia 3310 in pakistan
Nokia 3310 is very best mobile but now a days every mobile should be supported 4G. I hope Nokia company will be launched coming soon such like mobiles.
Voting results
Nokia 3310 (2017) Set

Design

7.5

Features

6

Performance

5.8

Votes:

6

Hits:

13039

---