LG Optimus Vu II F200 Reviews & Opinions
LG Optimus Vu II F200 Mobile
Price in Pakistani Rs. 50000
/-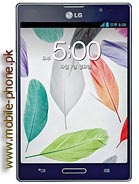 Get free
LG Optimus Vu II F200
mobile via Lucky Draw by posting LG Optimus Vu II F200 mobile reviews and opinions.
(Reviews / opinions on at least 10 mobile sets required)
Register
now to view email address & mobile numbers of girls & guys who want to sale or purchase mobiles.
I have this set,if anyone want to buy contact me... This set is good for any type of user, lik,if u want to watch movie, season,its processor is very fast, plus, u can keep all ur documents, plus edit them as much as u want, lot of space..i want to sell my mobile, which is LG note vu2.
Yes i have for sale 10/10 not opened
Hey! I have LG Optimus f200 (2Gb ram,16Gb intrenal memory and very good result 5 M.P camera LED Flash) in a very good condition.
Voting results
LG Optimus Vu II F200 Set

Design

5.6

Features

5.6

Performance

5.6

Votes:

44

Hits:

110959

---